Find your labels
Important Links
Who's Online
There currently are 17 guests and
1 member online.
Printed Labels
We can print all kinds of labels and promotional material
We print labels on sheets or rolls, business cards, flyers, invoice/order books, banners, magnets, and much more!
Our sales team are ready to advise you on printed labels and other printing matters and will be able to give you good advice and good quotes!
Contact Kate via email at sales@blanklabels.com.au
If you need help with printing, we can print them for you. We can supply printed labels on sheets or rolls. Visit www.sticker.com.au to order online or contact us.
BlankLabels.com.au normally follows the following procedure for print work:
A quote will be provided as per the client needs/request
Artwork will be supplied or we will be asked to produce artwork in line with the quote provided. Please send artwork 1 up, don't try to set-up the page to suit numerous labels as this will be done by our art department.
Artwork is returned to the client in a pdf format for final approval/alterations etc together with a Tax Invoice. Once the artwork is good to go to print and has been checked by the client, the client will indicate their approval of the artwork, and make payment on the invoice provided.
Once funds have been received, we will proceed to print at the next available point and customers usually have their printed work delivered in the next few days.
For larger/corporate orders, a deposit may be requested before proceeding with artwork and final payment on delivery of finished work.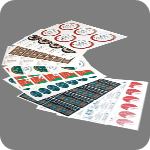 Printed Paper Labels